As you may have noticed we got a .com domain with that we changed the site name! The reason we changed the site name is because people are getting mixed up with Chrisdog's site and mine but now there's no mix ups, we have a new chat we would like you to go to it (Note this is going to be the official chat) And people that have put Clubpenguincpcc support banners on there site this is a big issue I need you guys to replace the code with the new support banner at the bottom. More info is down about the chats and the support banners.


Chat: The reason why we changed the chat is because its the old Clubpenguincpcc chat and we don't want that so visit http://Xat.com/CPCTtrackers our official chat! (Note we will never make another chat)
Support Banners
: We want all of you guys that have our old Clubpenguincpcc support banners to replace the code with the one below, if you don't like that one then please visit our support page by
clicking here
it has all new ClubPenguinCheatsTime Support banners. (Note you will never have to change our support banner again because this is our official site name)
Click here for the support page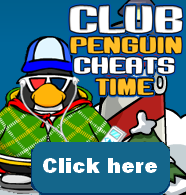 Site Name: I told you that many people are getting confused with ClubPenguinCP and Clubpenguincpcc so we changed the name to ClubPenguinCheatsTime its a more better name and easy to remember as the last name. (Note our site name will stay like this permanently so it will never be changed)
Thanks for reading. Also who ever adds ClubPenguinCheatsTime support banner to there site or blogroll gets a follow from me. Just tweet me on twitter saying I have added ClubPenguinCheatsTime Support banner or blogroll on my site. Make sure you put your site link in the tweet to! Sorry for everyone that added our old support banner but don't worry we wont change the support banner name again.
Hope you like the new site name.